Stillmeadow Finnsheep Ewes
Our ewe flock represents a consistent effort to select highly maternal dams from the wide genetics we have introduced since 1994. The need for repeated downsizing has enhanced our flock since only the top ewes have been retained. We currently manage the flock for annual lambing in April and field turnout in May which allows lambs to achieve their growth from lush pasture grasses. By supporting the ewes nutritionally we are rewarded with dams who have ample milk to feed litters of four.

This year, 2022, will be our last lambing season. My love for Finnsheep remains as strong as ever, but my advancing age ​has spoken. The four sire rams have been sold, but their genetic strength will carry on in the lambs due this spring.​
In addition to the high productivity from our remaining Finn ewes, we immensely enjoy their temperaments. As lambs they socialize easily and become extremely friendly and easy to handle. By working toward specific goals we have also been able to improve wool as well as body strength. Contact us for your opportunity to reserve lambs.
​

​​

Scroll down for ewe photos & information.....
GINGER EARS-Stillmeadow 607, triplet 4/26/06
FBA 23224 350% Lambing Average
​Sire-Stillmeadow 421F, TRUE
Dam-Stillmeadow 537, HEATHER BABY
A treasured dam from my best white bloodline who has progeny throughout the US & Canada.



MINT - Stillmeadow 617, triplet, 5/01/06
FBA 23225
​Sire- Stillmeadow 421F, TRUE
Dam- Stillmeadow 6, HEATHER
Daughter of 1st generation ewe HEATHER, born in her 11th year, Mint proved herself many times over with lambings of triplets and quadruplets. Maternally perfect, Mint had the highest quality fleece and docility.
Her grandson LIGHTNING has become a select sire with superior progeny.
DAHLIA- Stillmeadow 787, Quad Brown, 4/30/11
FBA 25401​
​Sire- Stillmeadow 761, FLASH, Quad Brown
Dam- Stillmeadow 713, SHY, Septuplet Black
​Dahlia was born chocolate brown.
​​Her 2013 litter gave sturdy quads with well crimped fleece......brown and black piebalds & solid black. Triplets, quadruplets, quintuplets, & sextuplets have followed. As one of our matriarchs in brown genetics, she is now retired, but still retained within our flock.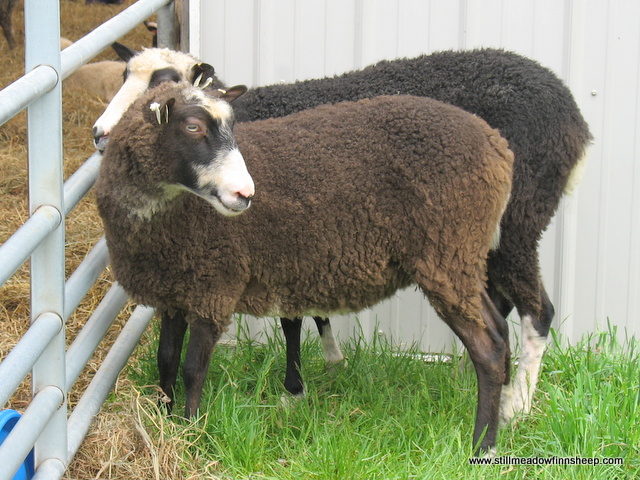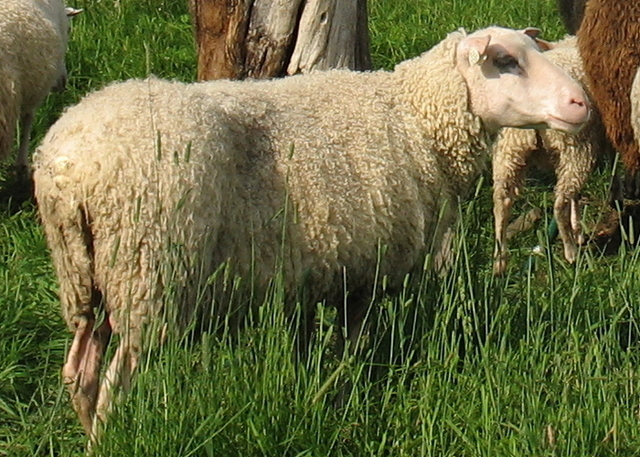 SHINING STAR - Stillmeadow 562, twin, 4/11/04
FBA 22321
Sire - Stillmeadow 421F, TRUE
Dam - Stillmeadow 537, HEATHER BABY
The gentlest creature to ever grace our farm.
Grand-​daughter of HEATHER, Stillmeadow 6
SNODROP - Stillmeadow 572, triplet, 4/27/05
FBA 22714
Sire - Stillmeadow 421F, TRUE
Dam - Stillmeadow 537, HEATHER BABY
Another grand-daughter of HEATHER, Stillmeadow 6.
This bloodline formed the genetic excellence which ​​​​​
continues to this day at Stillmeadow​.
BREEDING EWES 2016 - 2022
​​ROSE - Stillmeadow 1092, quint, 4/17/18 - FBA 29884
​
Beautiful results of line breeding to enhance positive traits.

Lambing at 12 months brought healthy twin ewes in 2019, twins in 2020, & triplets in 2021.
​​Sire - Stillmeadow 943 STRAUSS, trip. white, FBA 27065
Dam - Stillmeadow 965 BLUMCHEN, trip. wh. FBA 27622


BLUMCHEN - Stillmeadow 965, triplet, 4/28/15
FBA 27622
Sire - Stillmeadow 943, STRAUSS TR White
Dam - Stillmeadow 607, GINGER EARS TR White
So fortunate we've been to have this daughter to carry on Ginger Ear's maternalism...Quintuplets 2018/2019
ZINNIA - Stillmeadow 999, TR black HST, 4/6/16, FBA 28300
Sire - ​Stillmeadow 981 Lightning, TW white
Dam - Stillmeadow 0944 Citrine, TR white
As a yearling with her first twin litter this ewe brought us much joy as we witnessed her instant maternal nature. She has a forever home with us especially since her lambs and her fleece are spectacular. She raised triplets in 2018, 2019, & 2020, followed by quadruplets in 2021. With a milking ability to raise quadruplets, Zinnia has indeed become one of our best ewes.


CINNAMON - Stillmeadow 1112, tw brown, 4/20/18, born during her treasured dam's last lambing - FBA29887

Sire- Stillmeadow 971 Cinco de Mayo FBA27609 qt brn pie
Dam - Stillmeadow 747 Cinnabon FBA24915 qd brown
RUBY - Stillmeadow 1164, tripet brown piebald, 4/13/20
FBA 31479.....leads her dam, CINNAMON, down our hill.​
Sire - Stillmeadow 971, Cinco de Mayo, quint brn piebald
Dam - Stillmeadow 747 Cinnamon, shown above with her 2020 triplet litter which included Ruby.​​
MILKSHAKE - Stillmeadow 1176, twin brown piebald
FBA 31480, born 4/18/2020
Sire -Stillmeadow 971 Cinco de Mayo, Qt Brn Piebald FBA 27609​
Dam - Stillmeadow 1065 Tiger Lily, Triplet Brn, FBA29144​
As a lamb she gained good size, lovely fleece, and developed the gentlest temperament. At 12 months she gave twin brown piebald lambs and is anticipated to repeat brown piebalds in 2022.
MILKSHAKE & her twin ram lamb at 2 months (top)​
MORNING STAR - Stillmeadow 1150, triplet white,
FBA 30738, 4/18/19
Sire - Stillmeadow 1068 THUNDER, triplet white
Dam - Stillmeadow 999 ZINNIA, trip black HST
Every lamb sired by Thunder with Zinnia as dam has shining white fleece with amazing luster and softness. Plus the gentleness so prevalent in our Finn breed. Morning Star presented a large single white ram lamb in 2020 in her 12th month which now is lead sire in a midwestern flock. In 2021 she gave a triplet litter. ​​​​Her future remains bright !
Left to Right: SATU.......MORNING STAR.......MIST

DAHLIA'S Beautiful 2018 QUINTUPLET Finn Lambs
Once In A Blue Moon
* SEPTUPLETS *​
SATU

- Stillmeadow 1151, single blk Dalmatian Piebald
FBA 30739, 04/18/2019​
Sire - Olde Haven Galaxy, FBA29614, triplet blk Piebald
Dam - Stillmeadow Cream, FBA28307, quadruplet white​
SATU is one of our largest ewes who has given us the fastest growth ewe lamb, SPARKLE (at left & below), ever born at Stillmeadow. Both dam and daughter have exceptional wool and affectionate temperaments, also carry the unusual recessive gene for Dalmatian spotting.
Born in April 2021, SPARKLE reached the size of yearling ewes by her 7th month and is bred for 2022 lambing.

​SPARKLE is Stillmeadow 1211, FBA 32512, born 4/14/21​​​​
Sire- Stillmeadow 1080 Shooting Star, FBA31490, TR blk PIE
Dam- Stillmeadow 1151 Satu, FBA30739, blk Dalmatian PIE​​​​
RUBY -Stillmeadow 1164, trip. brown piebald 4/13/20
Sire - Cinco de Mayo FBA27609 quint brown piebald
Dam - Cinnamon FBA29887 twin brown HST​​
photos above & below taken March 2022​
MOON DANCE - Stillmeadow 1210, FBA32517
TR black badgerface, 4/14/21 ,image @ 11 months​
Sire- Stillmeadow 1178 Storm,TR blk BGR, FBA31492​
Dam- Stillmeadow 1150 MorningStar,TR white,
FBA 30738
Moon Dance has an exceedingly fine, soft fleece with high crimp and is a purely marked black badgerface.
Now bred to lamb as a yearling in 2022.​​​​
Notice here how Sparkle has grown by her 11th month in relation to her three year old dam Satu.