Stillmeadow ~ Vintage Spinning Wheels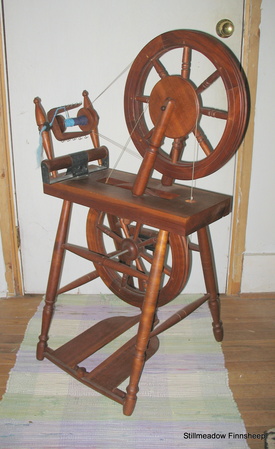 Collecting spinning wheels is a bit of a passion here. As I grew into fiber crafts a fascination with wheel mechanics led me beyond mass produced tools and into the realm of the master craftsman.
One of my early wheels came from

Ken Adkins

, an upstate New York gentleman who traveled to Upper Canada Village, then replicated their accelerating, double treadle wheel from the early 1800's. Local cherry wood was chosen and oil finished for a warm, rich appearance. Although this Adkins wheel was produced in the 1970's, the craftsmanship is comparable to the original in his attention to every detail. Typical of Canadian wheels, it has tilt tension for adjusting the double drive band. The added feature of the double treadle assists starting & stopping the accelerating wheel speed. Appropriate for those who enjoy high production, this wheel is a rare gem.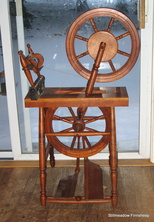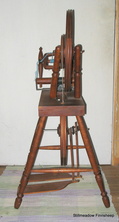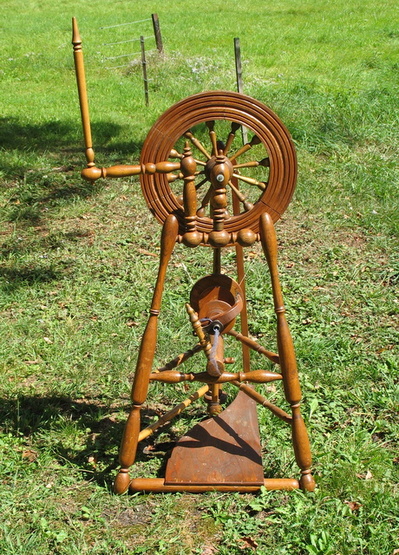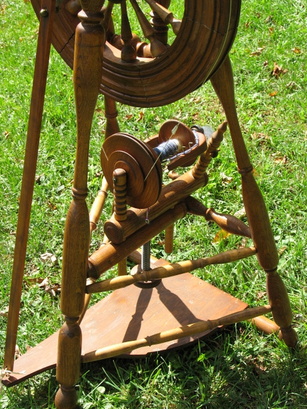 Even more unique are two wheels which my father,

Elbridge Hale Kinne

, produced for me in 1979. After discovering "A Pictorial Guide to American Spinning Wheels" by Pennington & Taylor (1975), I asked him to build me an

Irish Castle Wheel

similar to the photograph on page 14. Displayed was one made by Daniel Danner in Mannheim, PA in the 1830's. However, mine was designed to spin wool rather than flax. I was well acquainted with tension systems and drive ratios, and preferred spinning on a traditional appearing wheel, but with the option of soft twist. So, together we worked out the proportions of bobbin, flyer, and whorls and gave the wheels flexibility with Scotch tension. An orifice of 5/8" coupled with drive ratios of 3:1 and 5:1 and a 16.5" drive wheel allow a variety of thicknesses and complex plies to be spun. The wide treadle accommodates both feet for ease of treadling the 44" tall wheel. Crafted primarily of oak retrieved from our neighbor's fallen carriage house beams, these two wheels hold many memories.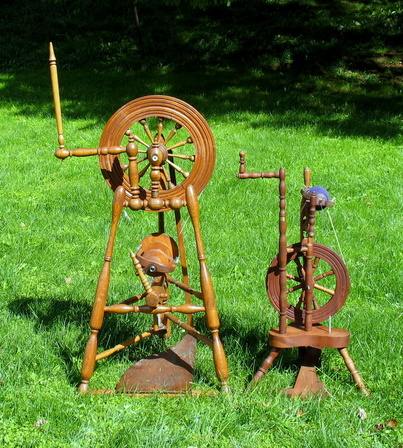 The Largest and the Smallest of
my Castle Style Wheels​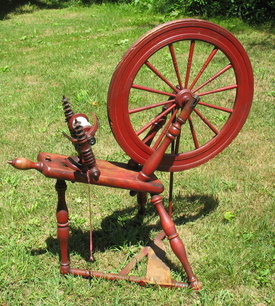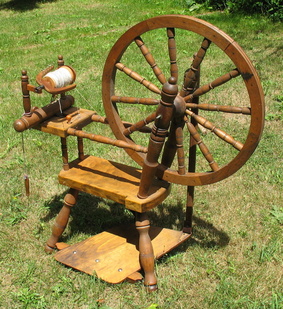 My first antique wheel with a 29:1 ratio !
Another wonderful gift made by my father, my Norwegian Saxony wheel
Back in 1972 I began to collect spinning wheels.
Never did I anticipate becoming so dedicated to
handweaving and yarn creation that I would end up with a flock of beautiful Finnsheep. The adventure will never grow old !​​
Do you need help

understanding how your own wheel works, or what parts are needed to make


it functional once more ? Let me assist you so that handspinning becomes more enjoyable.