Stillmeadow Finnsheep Ewes
Our ewe flock represents a consistant effort to select highly maternal dams from the wide genetics we have introduced since 1994. The need for repeated downsizing has enhanced our flock since only the top ewes have been retained. We currently manage the flock for annual lambing in April and field turnout in May which allows lambs to achieve their growth from lush pasture grasses. By supporting the ewes nutritionally we are rewarded with dams who have ample milk to feed litters of four.

In addition to the high productivity from our eighteen Finn ewes, we immensely enjoy their temperaments. As lambs they socialize easily and become extremely friendly and easy to handle. By working toward specific goals we have also been able to improve wool quality and introduce a full rainbow of natural colors.

It is my good fortune to share this tranquil hilltop with these lovely creatures .

Scroll down for ewe photos & information.....
GINGER EARS-Stillmeadow 607, triplet 4/26/06
FBA 23224 350% Lambing Average
​Sire-Stillmeadow 421F, TRUE
Dam-Stillmeadow 537, HEATHER BABY
A treasured dam from my best white bloodline who has progeny throughout the US & Canada.



MINT - Stillmeadow 617, triplet, 5/01/06
FBA 23225
​Sire- Stillmeadow 421F, TRUE
Dam- Stillmeadow 6, HEATHER
Daughter of 1st generation ewe HEATHER, born in her 11th year, Mint has proven herself many times over with lambings of triplets and quadruplets. Maternally perfect, Mint has the highest quality fleece and docility.
Her grandson LIGHTNING has entered our select sire group & his lambs are anticipated in April 2016.
PEARL- Stillmeadow 741,quad, 4/16/10
Black Badgerface (silver grey fleece)
FBA 24914 Scrapie Resistant QR
​Sire- CookNY41-0074,MOONSHADOW
Dam- Stillmeadow 661, LILAH ROSE
With true badgerfaced markings and silky fleece from her sire, Pearl is a
great asset to my ewe line. Here she is with her twins born in her 12th month.
Since then she has given triplets,quads, and is a very capable dam.
CINNABON - Stillmeadow747, qd brown, 4/20/10
FBA 24915
​Sire- Eldorado 117,CHANCE, twin brown
Dam -Stillmeadow 651,SWEET CHOCOLATE,trip brown
Our rare brown ewe is pictured with her first
litter at 12 months age which were sired by Stillmeadow brown quadruplet Flash.
She began a new chapter at our farm with this
beautiful medium brown color. A capable dam.
In 2012 she gave another triplet litter followed by quintuplets in 2013 & sextuplets in 2014 & 2016.


DAHLIA- Stillmeadow 787, Quad Brown, 4/30/11
Sire- Stillmeadow 761, FLASH, Quad Brown
Dam- Stillmeadow 713, SHY, Septuplet Black
FBA 25401
​Dahlia was born chocolate brown with black facial and leg hair. From several generations of brown genetics, she remains a puzzle to me since her soft fleece is becoming lighter and mixing both brown and grey hues together Such is the adventure of recessive color in Finns. Her 2013 litter gave sturdy quads with well crimped fleece......brown and black piebalds & solid black. Both triplets and quadruplets have followed since then.

CLOUD- Stillmeadow 791, Twin Black Badger
from her dam's 1st lambing on 5/2/11
FBA 25399 Scrapie Resistant QR
​Sire- Cook NY41-0074, MOONSHADOW, BGR, QR
Dam- Stillmeadow 741, PEARL, QD Black BGR, QR
Cloud has the most perfect fleece of all the ewes. It is supersoft with a fine crimp that feels exotic to touch. She's a natural leader and always eager to greet her shepherd.
Most notable is that she has given triplets in all five of her litters and also carries brown genetics.
(Dam PEARL shown above)
SWEET TART- Stillmeadow 665, qd piebald,5/14/08
FBA 24044
​Sire - Stillmeadow 544, BANDIT, qd black piebald
Dam- Stillmeadow 572, SNODROP, white triplet
Sweet Tart carries Dalmatian spotting and has over a 300% lambing average. Each lamb has vigor and rapid growth, no matter which sire is used.
She is a flock leader with a gentle temperament and unrivaled maternal traits, following the history displayed in all ewes from this genetic lineage.


TWILIGHT - Stillmeadow 929, Sextuplet Brown, 4/17/14
FBA 27055
Sire - Stillmeadow 819, TWO STEP Triplet Brown​
Dam - Stillmeadow 747, CINNABON, Quad Brown
This docile ewe gave brown triplets at 12 months & again
​at 24 months indicating future generations of her lovely
​color which is deep toned matching her dam Cinnabon.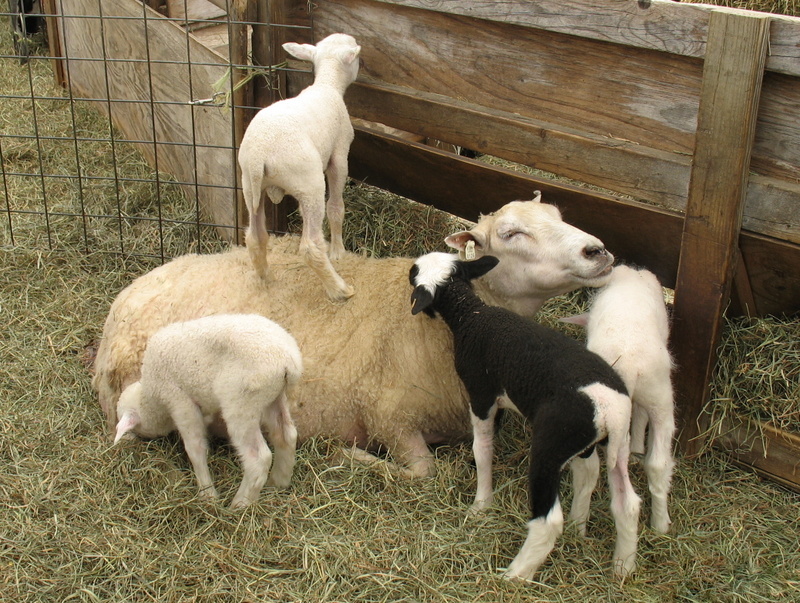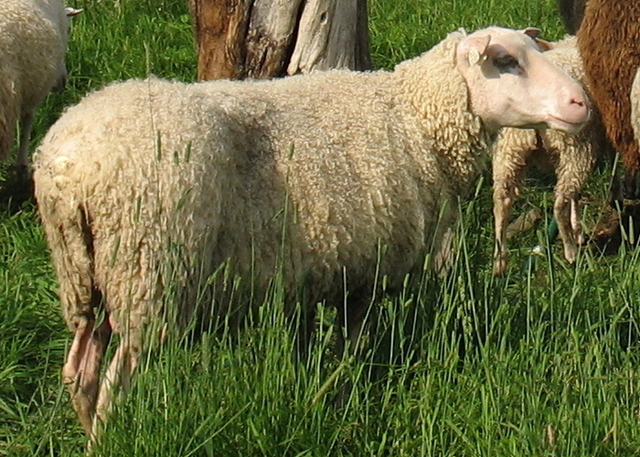 SHINING STAR - Stillmeadow 562, twin, 4/11/04
FBA 22321
Sire - Stillmeadow 421F,TRUE
Dam - Stillmeadow 537, HEATHER BABY
The gentlest creature to ever grace our farm.
Grand-​daughter of HEATHER, Stillmeadow 6
SNODROP - Stillmeadow 572, triplet, 4/27/05
FBA 22714
Sire - Stillmeadow 421F, TRUE
Dam - Stillmeadow 537, HEATHER BABY
Another grand-daughter of HEATHER, Stillmeadow 6.
This bloodline formed the genetic excellence which ​​​​​
continues to this day at Stillmeadow​.
BREEDING EWES 2015 - 2016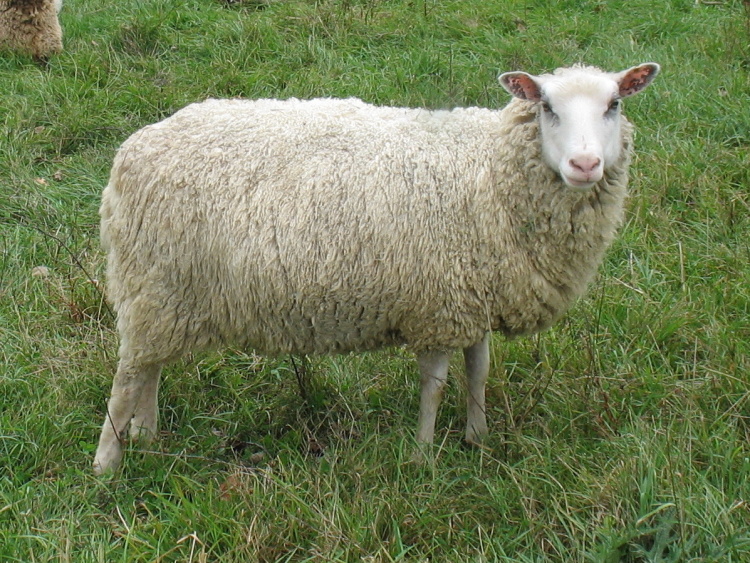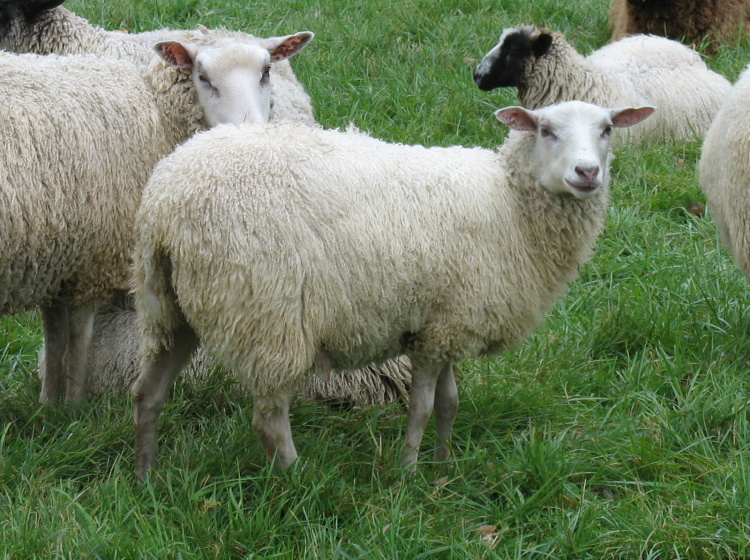 CITRINE - Stillmeadow 944, triplet, 4/21/14
FBA 27056
Sire - Harlequin 0046, FREEDOM QD White
Dam - Stillmeadow 828, ECHO QD White
Grand-daughter to MINT, pictured above
Citrine gave twins at 12 months & triplets at two years with excellent maternalism.
BLUMCHEN - Stillmeadow 965, triplet, 4/28/15
FBA 27622
Sire - Stillmeadow 943, STRAUSS TR White
Dam - Stillmeadow 607, GINGER EARS TR White
So fortunate we are to have this daughter to carry on Ginger Ear's maternalism.....Twin ewe lambs 4/15/16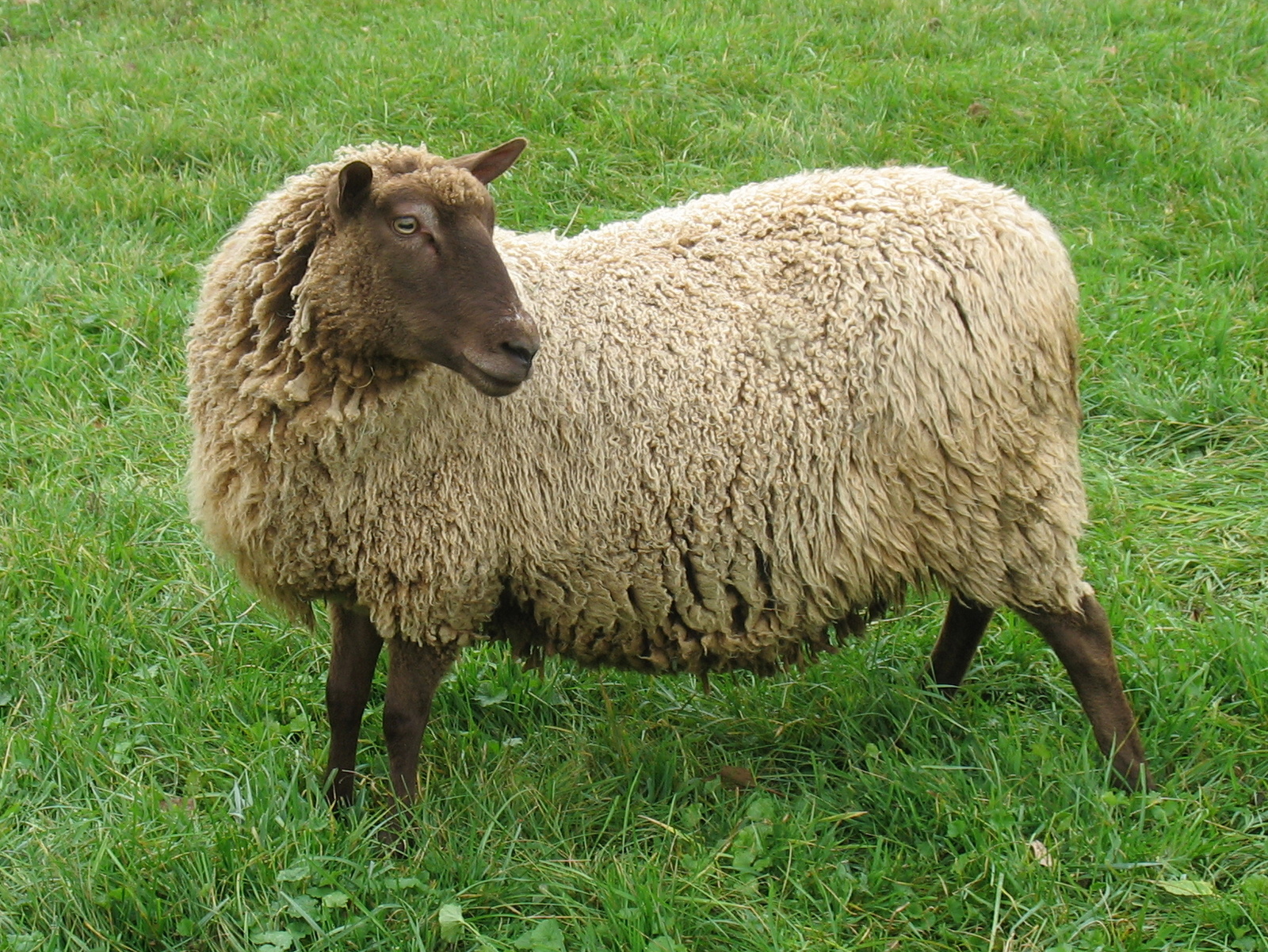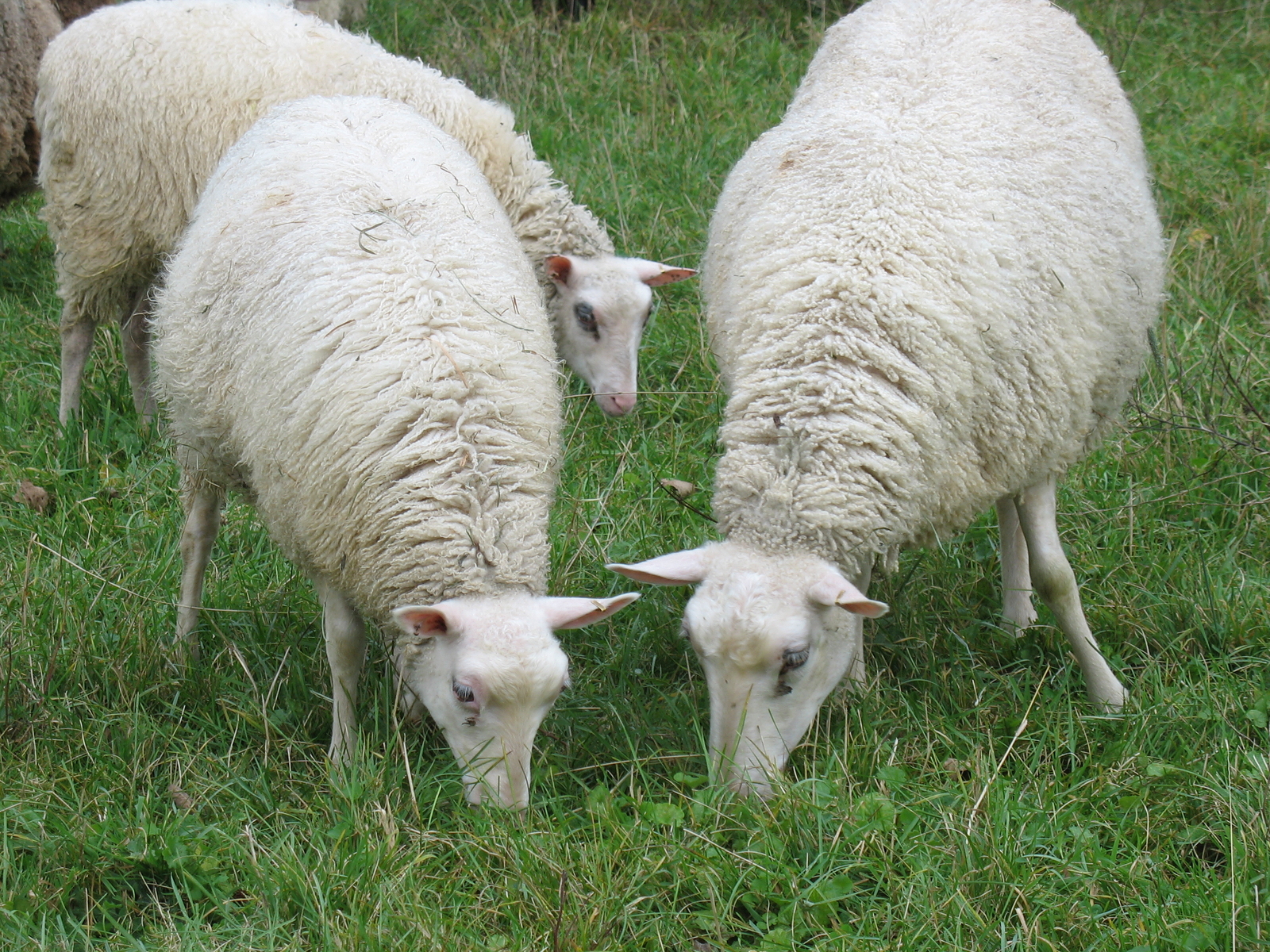 JASMINE - Stillmeadow 908, Quad White, 4/9/14
FBA 27052
Sire - Harlequin 0046, FREEDOM, Quad White
Dam - Stillmeadow 665, SWEET TART, Quad Blk Piebald​​​
Shown at right ​with triplet daughter Lily born in her 12th month, Jasmine displays everything we could wish for in a ewe plus she is destined to be as productive as her dam.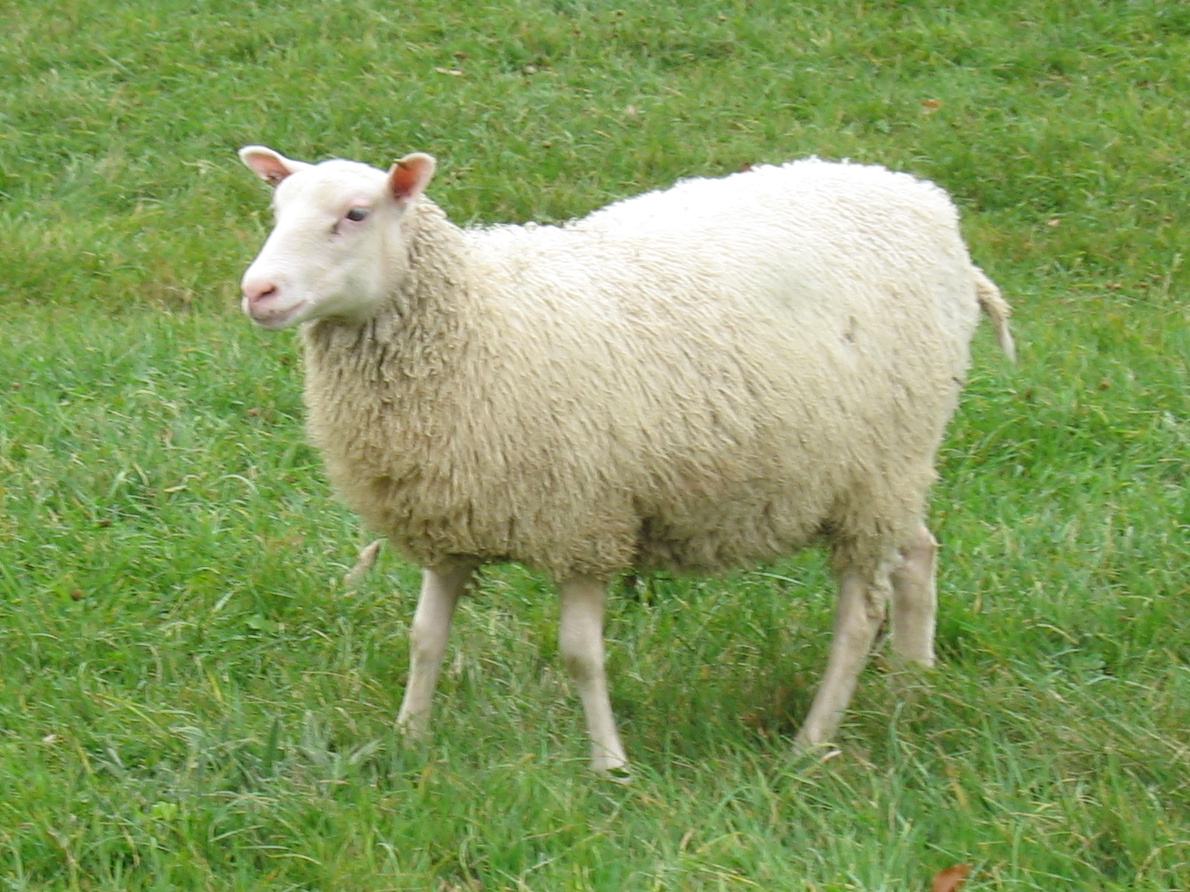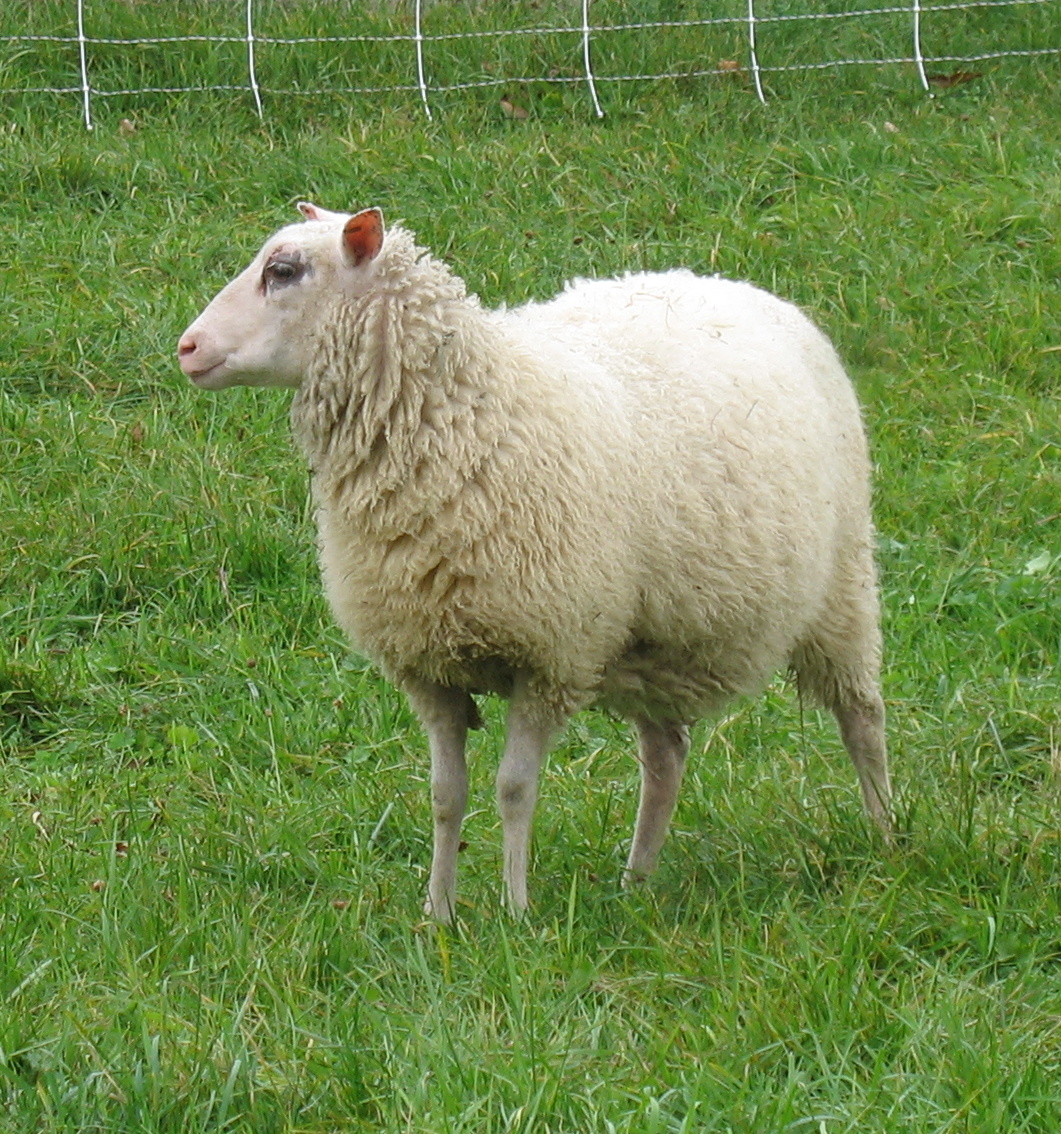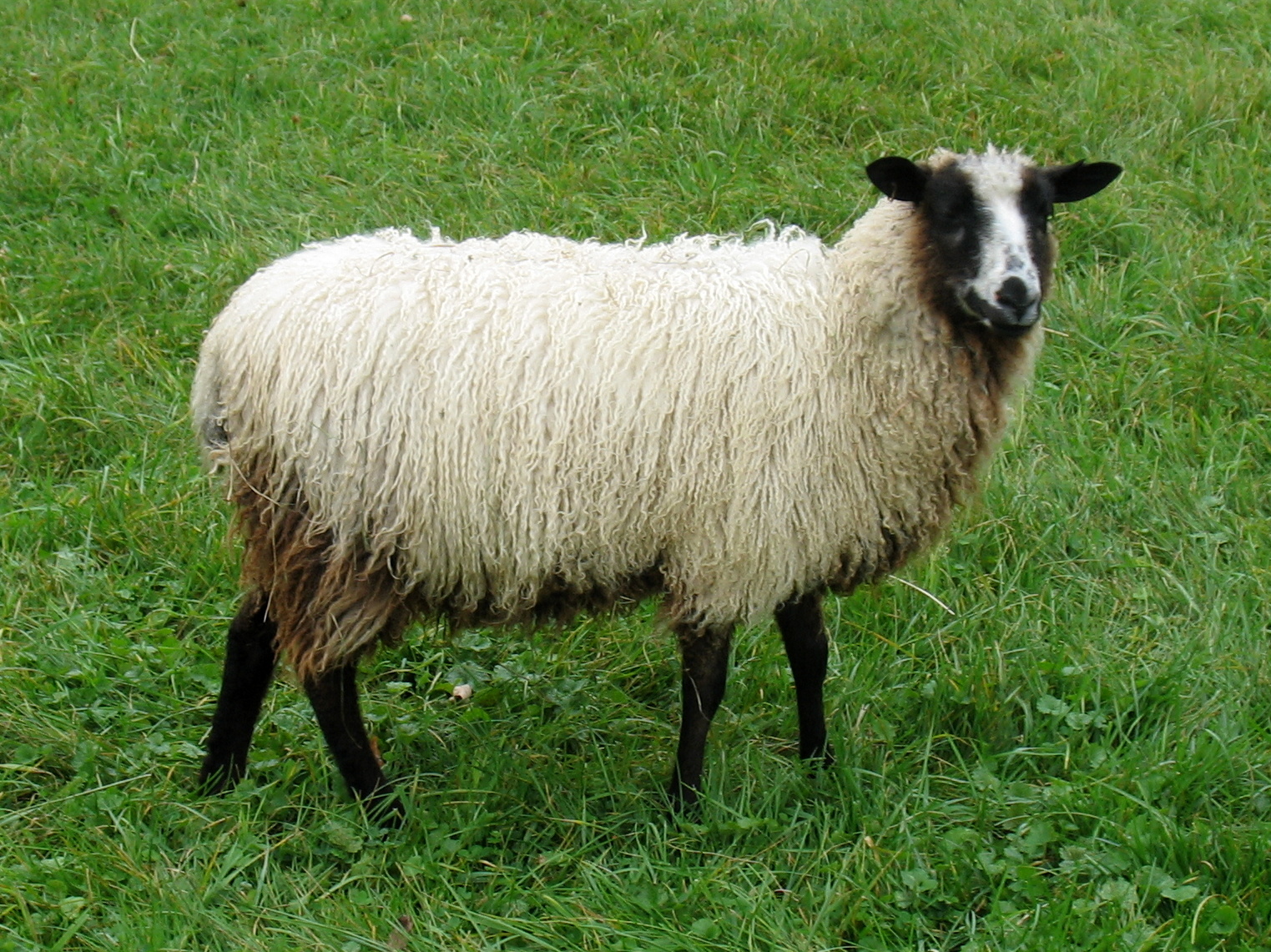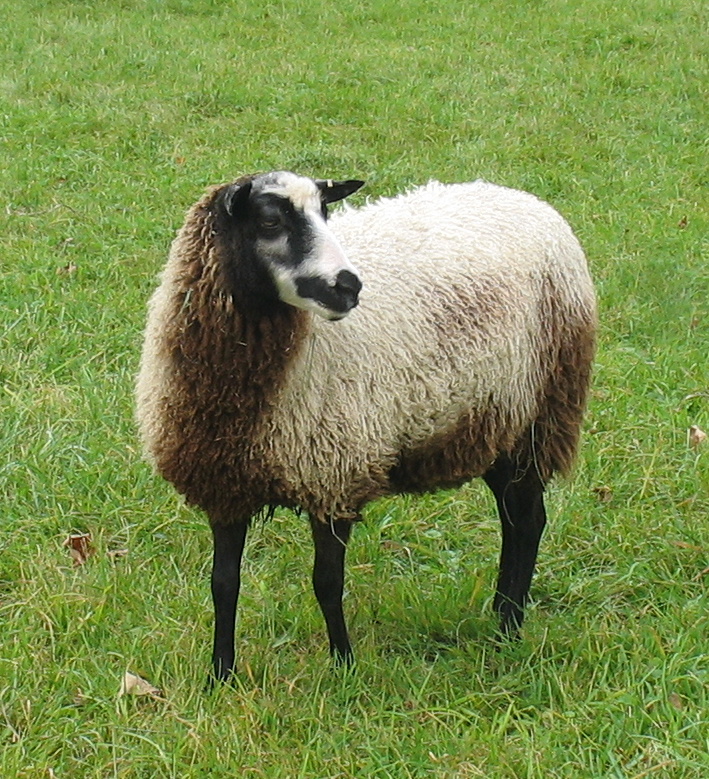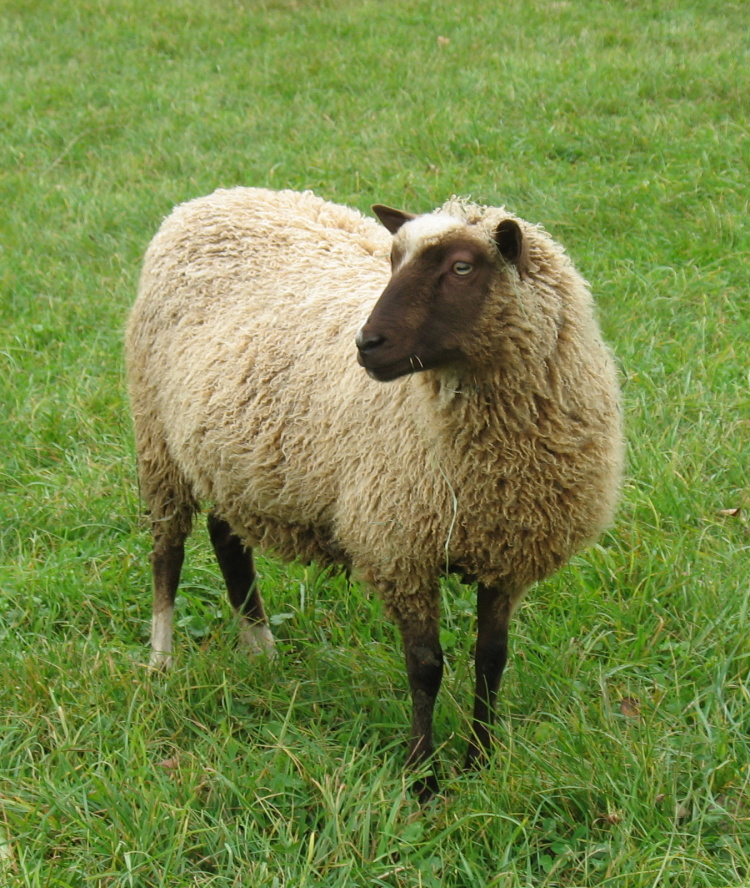 SUGAR MAPLE - Stillmeadow 967, Triplet, 4/28/15
FBA 27623
Sire - Stillmeadow 854, BEAR, Twin Black
Dam - ​​​Stillmeadow 791, CLOUD, TW Black BGR, QR
A stunning young ewe whose gentleness is a direct trait given by both sire & dam. We are eager to see another brown litter in 2017.​
LILY - Stillmeadow 963 - Triplet White, 4/9/15
Sire - Stillmeadow 943 , STRAUSS TR White
Dam - Stillmeadow 908, JASMINE QD White
FBA27621
Almost a carbon copy of her beautiful dam (above), Lily wags her tail each time I touch her. Friendly sheep are a grand reward for all shepherds. With Lily I am hoping to ​​​​re-establish predictable white bloodlines again.
POPPY - Stillmeadow 947, QD White, 4/13/15
Sire - Stillmeadow 943, STRAUSS TR White​
Dam - Stillmeadow 882, CLOVER, TR White
FBA 27619
Poppy is a well grown young ewe who may be hiding spotting within her genetics. I would welcome more Piebalds here once more .
BLUEBELL - Stillmeadow 985, Quint Blk Badger, 5/5/15
Sire - Stillmeadow 914, HAYDN, QD Blk Badger, QR
Dam - Stillmeadow 869, AMETHYST, TW Blk HST
FBA 27618
A sweet young ewe with the palest silver fleece which is very long and silky. Bluebell convinced me to keep her even though I have attempted to reduce the size of my
flock.....she is a perfect dam and shows great promise.​
MYSTERY - Stillmeadow 955, QD Blk Badger, 4/24/15
Sire - Stillmeadow 914, HAYDN, QD Black Badger​ QR
Dam - Stillmeadow 818, SECRET, TR​ Black HST
FBA 27719
Within her birth litter of four​​, Mystery grew rapidly & became much larger than her sibling rams. One of my most outstanding young dams in 2016, she will next be bred to Strauss in hopes of bearing badgerface lambs in April 2017.
Yet to be pictured are our six ewe lambs from April 2016 who will be bred to lamb in April 2017 as they become yearlings :

​​Stillmeadow 999 Zinnia FBA28300
black HST triplet

Stillmeadow 1000 Zebra FBA28305
white triplet (brown​​​​ leg markings)

​​​​​Stillmeadow 1002 Purple Rain FBA28306
black triplet​

Stillmeadow 1005 Cream FBA28307​​​
white quadruplet

Stillmeadow​​​ 1019 Blessa FBA28308
brown badger quadruplet

Stillmeadow 1021 Hyacinth FBA28309​​​
black badger single​